Life hacks, tips and tricks!

Our AT Chatterbox community is a hive of innovators and life hackers. Check out some AT hacks to help you live, play, work.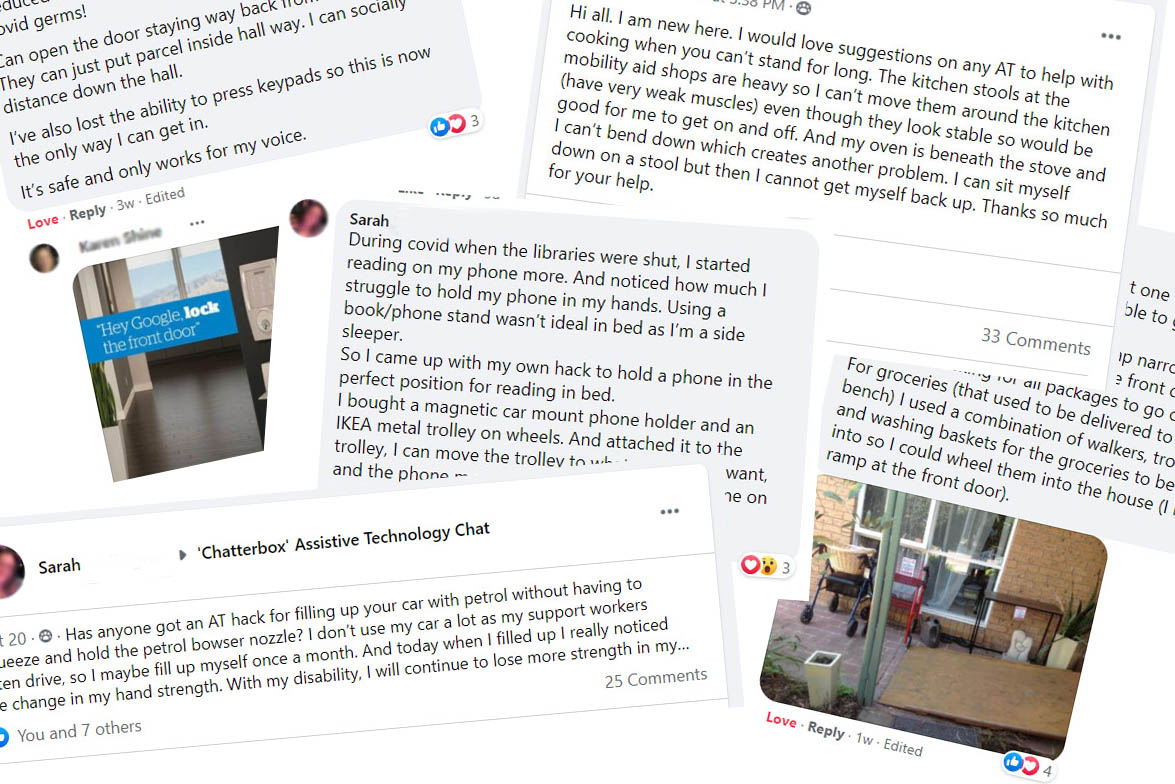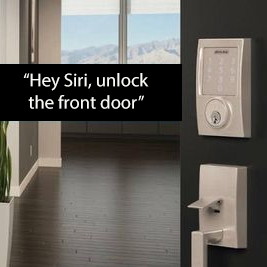 Karen's post:
Reduced the number of people touching the keypad /Covid germs!

Can open the door staying way back from the postie (by using Schlage Sense Smart Deadbolt. They can just put parcel inside hall way. I can socially distance down the hall. I've also lost the ability to press keypads so this is now the only way I can get in. It's safe and only works for my voice.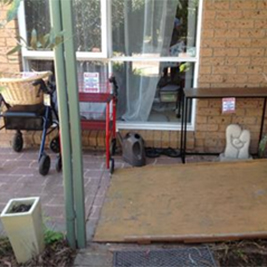 Jess's post:
Not a lot has changed for me but one thing that did was deliveries. I used to be able to get these put inside - I struggle to bend.
For general packages I got a cheap narrow hall table from Kmart and put it by the front door with a sign on it asking for all packages to go on this.
For groceries (that used to be delivered to the bench) I used a combination of walkers, trolleys and washing baskets for the groceries to be put into so I could wheel them into the house (I have a ramp at the front door).

Post comment: Wow. Genius. I am going to have to borrow your hack. I can't bend either so can't do anything when deliveries are left on the floor. Something with wheels is good for heavy things as I can't carry things either. Thank you.
Jackie and Alice's post:
Alice's only cardio exercise is swimming with Superfins, so when Covid-19 struck and HBF Stadium was closed, it meant no more exercise for Alice! Alice's school at the time offered their elite swimmers separate use of the pool, so they could keep up training. It would have been decent of them to offer Alice this special treatment too, since they knew swimming was so important to her health, but they didn't.
I rigged up some ropes to poles and created an on the spot swimming harness in our home pool! Alice was able to maintain a whole month of swimming laps on the spot, until our pool got too cold.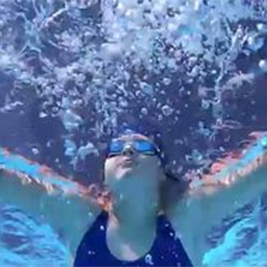 Sarah's post:
During Covid-19 when the libraries were shut, I started reading on my phone more and noticed how much I struggle to hold my phone in my hands. Using a book/phone stand wasn't ideal in bed as I'm a side sleeper. So I came up with my own hack to hold a phone in the perfect position for reading in bed.
I bought a magnetic car mount phone holder and an IKEA metal trolley on wheels. And attached it to the trolley, I can move the trolley to whatever angle I want, and the phone mount pivots too, to hold my phone on perfect angle, at the right reading distance for me. It's become so handy for hands free viewing.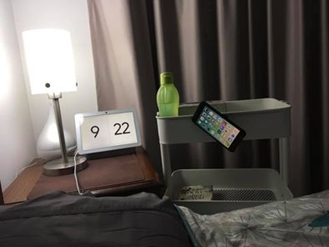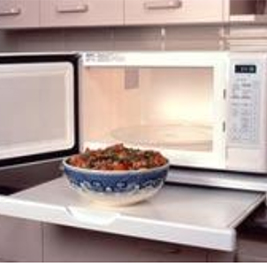 Su Mon's post:
Hi all. I am new here. I would love suggestions on any AT to help with cooking when you can't stand for long. The kitchen stools at the mobility aid shops are heavy so I can't move them around the kitchen (have very weak muscles) even though they look stable so would be good for me to get on and off. And my oven is beneath the stove and I can't bend down which creates another problem. I can sit myself down on a stool but then I cannot get myself back up. Thanks so much for your help.

I have seen a few OTs. They have made suggestions but pretty standard stuff. And I have found a chair online that suits but it is really expensive. So I was hoping for some creative ideas here.

Post comment: I've recently purchased a Thermomix TM6, airfryer and slow cooker. My OT observed me preparing and cooking food and wrote a report to support these purchases. These appliances mean I don't have to actively observe cooking as they are set using a timer, nor do I have to bend to put food in and out of the oven.

Another awesome purchase has been a shelf under the microwave so I can easily remove hot food to stir etc) without having to walk anywhere. Let me know if you want links to anything.

Su Mon's reply: Thank you. Would love a link to the shelf under the microwave please.
Link to microwave shelf: https://ilcaustralia.org.au/products/11531
Sarah's post:
Has anyone got an AT hack for filling up your car with petrol without having to squeeze and hold the petrol bowser nozzle? I don't use my car a lot as my support workers often drive, so I maybe fill up myself once a month. And today when I filled up I really noticed the change in my hand strength.
With my disability, I will continue to lose more strength in my hands overtime. So I'm wondering if there's any hacks out there (other then having someone else fill up the car for me). Thanks.

Post comment: Instead of gripping around handle put hand in gap make fist and push up, use second hand or hip to hold top of grip down.
Sarah's reply: Great idea! That will be helpful for me. Thanks

Post comment: I have noticed a lot of service stations will fill up your car for you on a Wednesday between 10 AM and 2 PM I think if you are disabled and unable to do so. I only found this out because I saw it on a bowser. Maybe check it out when you go through a servo next time.
Sarah's reply: That's a good idea. Hopefully one of the local servos would be willing to do it if I go at a time when they have enough staff available.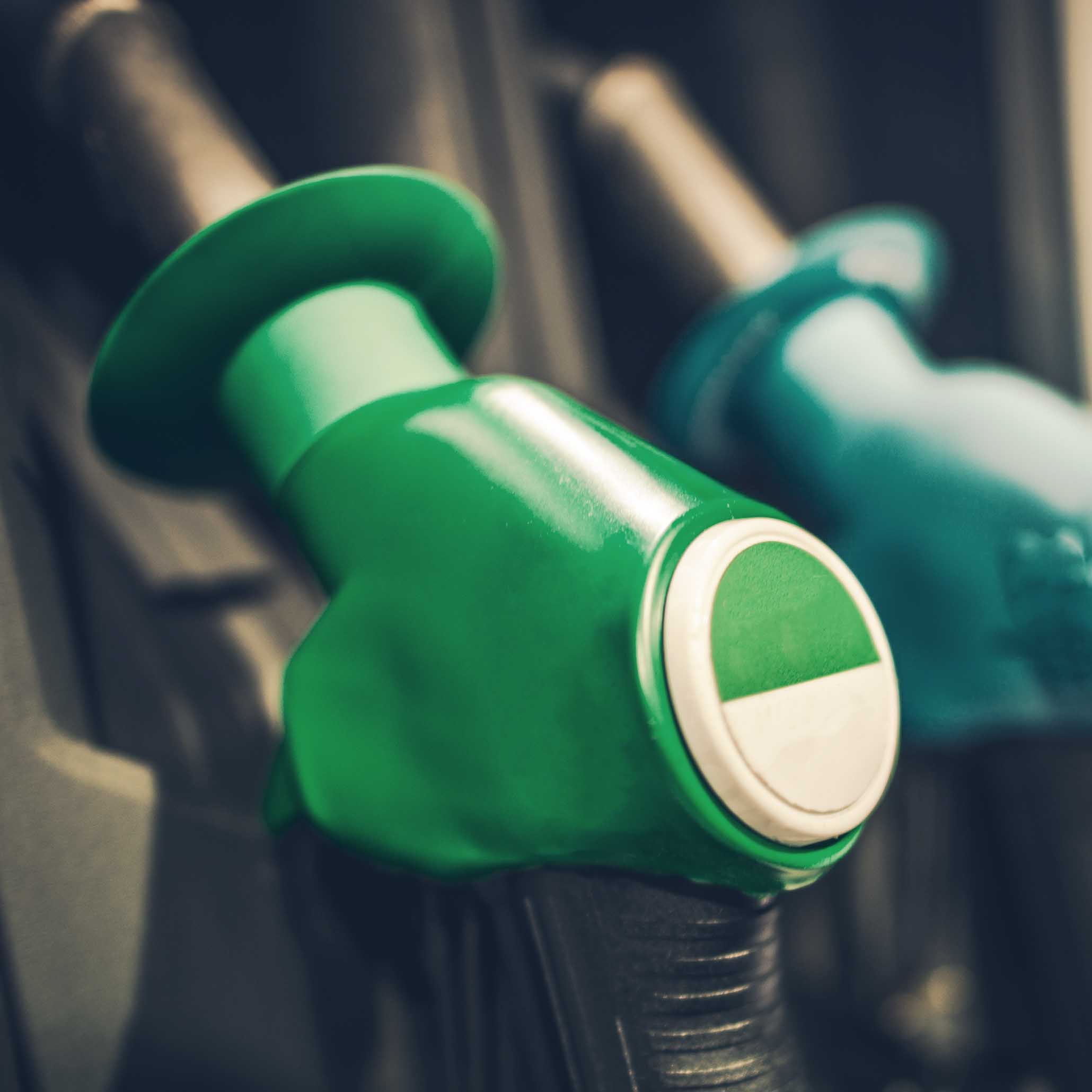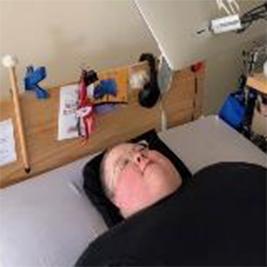 Ricky's AT Life Hacks:
If these hacks have you thinking about customising some AT to meet your needs follow this link to check out our informal bedside interview with expert AT user Ricky Buchanan as she shares the AT she uses to live her life.
Follow this link for a great read from Ricky explaining the process she uses to create her AT solutions.
Ricky: "I really do recommend that designing your own [AT] is a really awesome thing. You get exactly what you want, the colour and shape you want, it suits your personality, and it does exactly what you want. Instead of just kind of being ok in solving the problem. It's really nice to have assistive technology that makes you feel excited to use it, where you feel a lot of ownership and you can be like 'hey I made this thing!'
"We deserve better than just OK assistive technology! "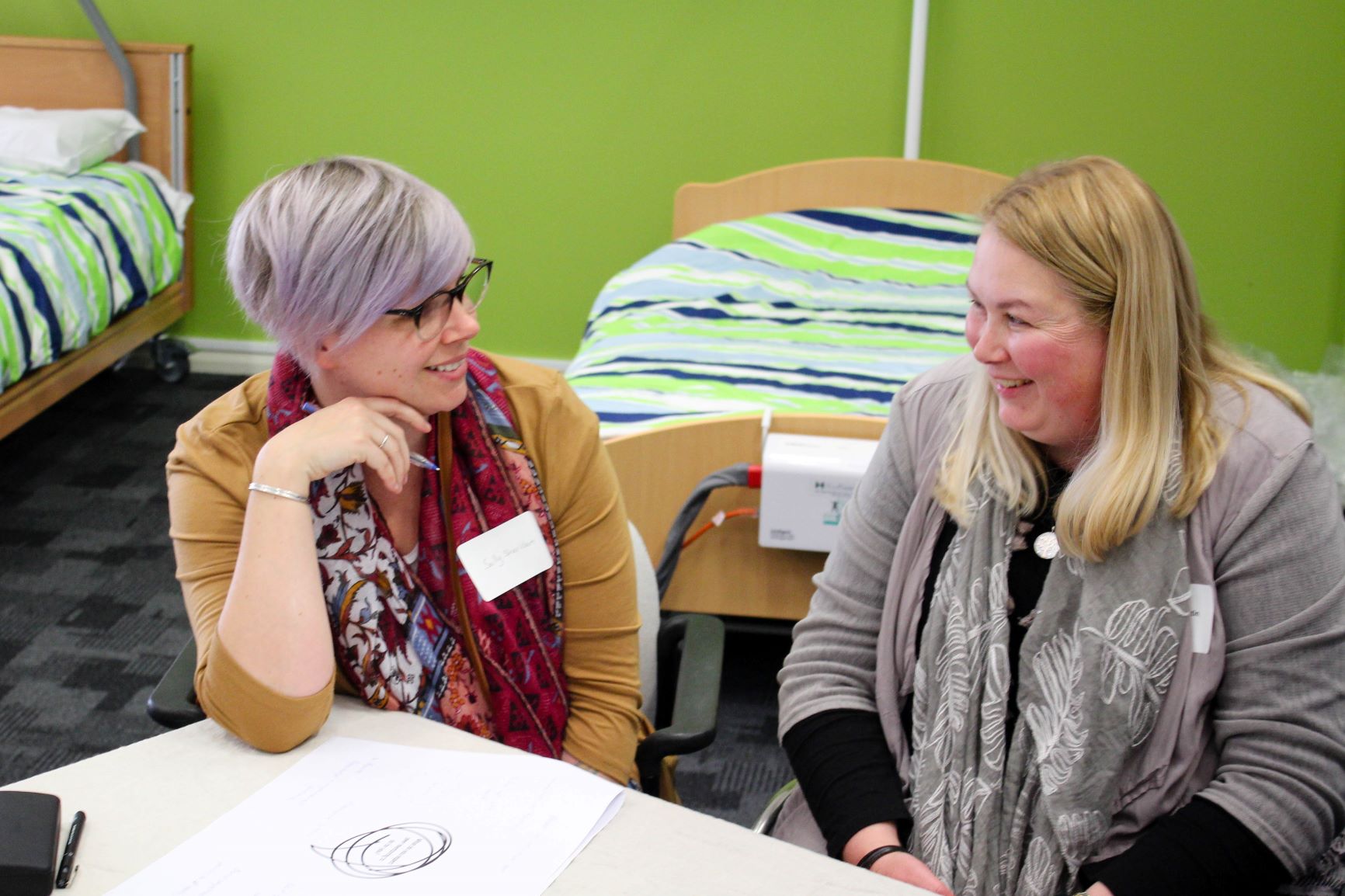 Our Facebook group Chatterbox is open to all assistive technology (AT) users. If you would like to join the AT chat to share your experience and connect with your peers about an AT solution please follow the link below and join this amazing community.