Weaving his way into art with AT
Greg's story

In collaboration with the Arts Hub run by Rise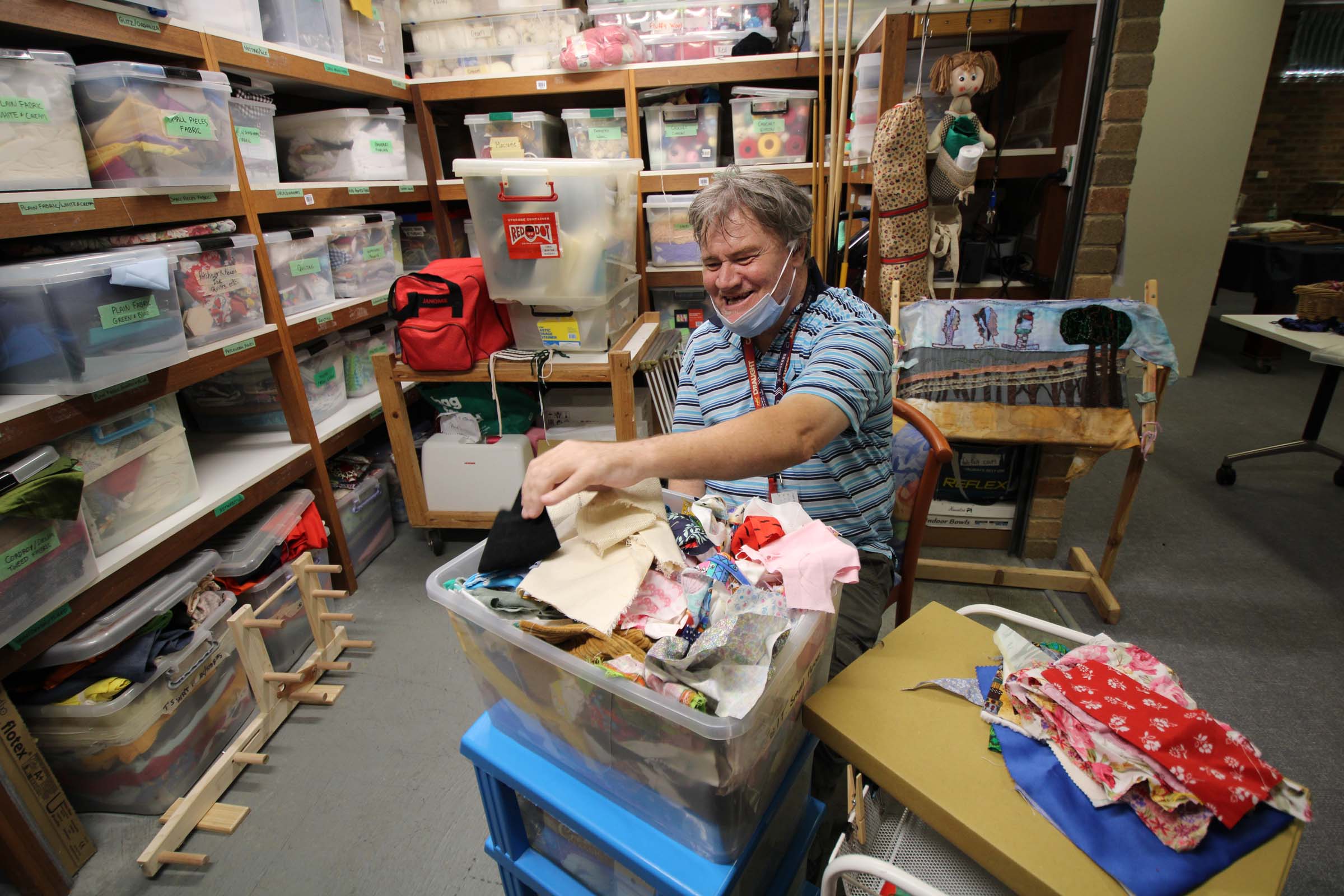 Growing up in an artistic family and seeing his mother and grandmother creating woven textiles, embroidery and sewing, Greg said he never had an opportunity to be creative himself as it was seen as a woman's hobby. After working in a workshop job for 37 years, following an injury, Greg realised he wanted to slow down and try something new, which led him to the Arts Hub, run by Rise.
Greg said he had never been happier since coming to the Arts Hub eight years ago. Back in 2014, this was where he would go on to create his first piece of art ever and find his niche in textiles.
"It's never been better for me. I've made such great friends and I can take my time to be creative. The staff help you with what you're working on, so you don't need to do it in a hurry or feel rushed. They are so supportive of everybody's abilities, skills, and talents," he said proudly.
Greg uses a variety of assistive technology (AT) when he's creating art, from the planning stages, to the final production of the piece. Greg said he takes his iPad everywhere now and his support worker helps him take reference shots wherever they go so he can use them for inspiration later.
"It's made such a big difference in my life to have an iPad and to be able to take photos of my life and where I go with my family. It means a lot to me," he said.
"I love to then use the photos to create my art, and this has been an amazing tool for me. I have been taking photos for ten years and I used to use a camera. The iPad is so much easier and has everything I need to do things my way. It's amazing."
During the planning phase, Greg says he uses an inspiration journal to put in his ideas, drawings and samples so he can 'see' the project before he gets stuck in.
"I collect my photos and drawings and put them in my board book of inspiration to use in my craft activities where I have mapped out my life," he said.
At Rise's Arts Hub, currently based in Warwick, Greg has moved between the wood working room, the craft room and pottery and he said the craft room was the creative space he liked the best, even though he was the only man in there.
"I love being the only man in the craft room," he said with a chuckle.
"Everybody should have a go. We all work differently, and the others are working their way and so am I."
Greg explained what art meant to him and he said it was the freedom that he loved the most.
"It means doing something I love and coming together with other people and artists who I've learnt a lot from. We all have different needs and ways of doing things, and we all support each other," he said.
"I see a lot of people who come into the Hub and get stuck into it regardless of what different ways they do their art."
Greg uses an adapted frame to do embroidery work on and he uses larger needles with a bigger eye so he can thread more comfortably.
Watching Greg work, he demonstrated a trick he has learnt to thread the needle more accurately. He only has the full use of one of his arms, so he decided to put the needle into the Velcro on his arm brace to support the needle's stability.
"If I hold the needle in my hand, it is too wobbly and tight, but when I put it in my brace, I can thread it easily myself. It has made a big difference," he explained.
"I like to do things myself, so I wanted to thread the sewing needle my way, so I didn't have to ask anyone for help."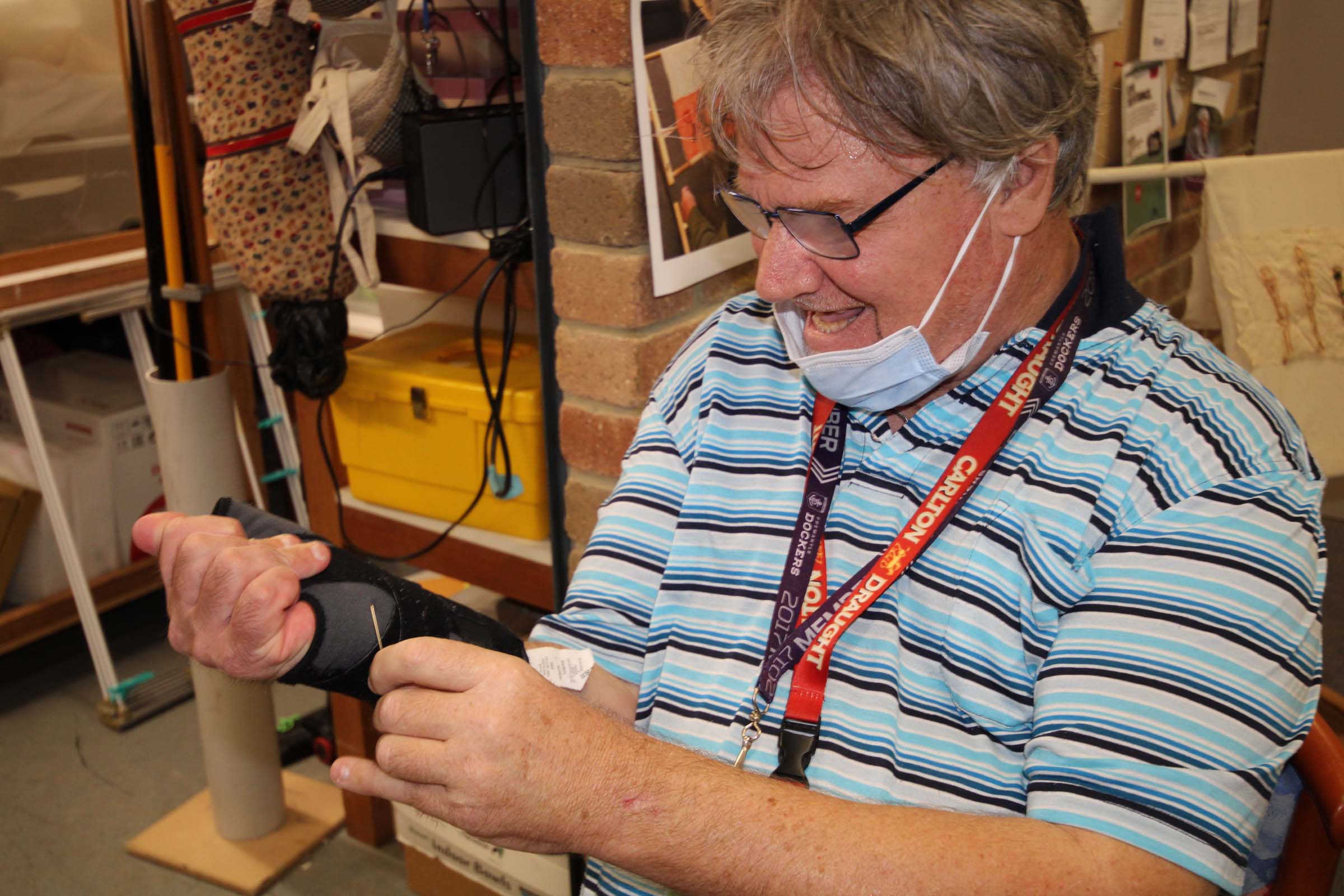 Greg said the Rise's staff at the Arts Hub were really accommodating of people's varying needs and interests.
"The team sits down with you and ask what you want to make, what your needs are and how you can use the tools differently to achieve your goal," he explained.
"I do a lot of my work differently, with the use of only one of my arms, but I've always been up to the challenge."
Holding up his sewing needle, Greg demonstrated how it was longer than a typical one and easier for him to work with and grip.
"I have some problems with my eyes, so long sewing needles with a big eye are good so I can thread it confidently," he said.
"They have whatever we need to be more independent and to be able to do things ourselves."
The frame Greg used was designed at the Arts Hub and built in the woodworking room. There are several that people can use to create their artwork if they need it. The accessibility has been key to Greg's success as an artist.
"Other people have used a frame like me and if we can't use our hands and arms correctly, we couldn't do the stitching we needed to do without it," he explained.
"They gave us a frame and set it up with embroidery and away we went," he said with a smile.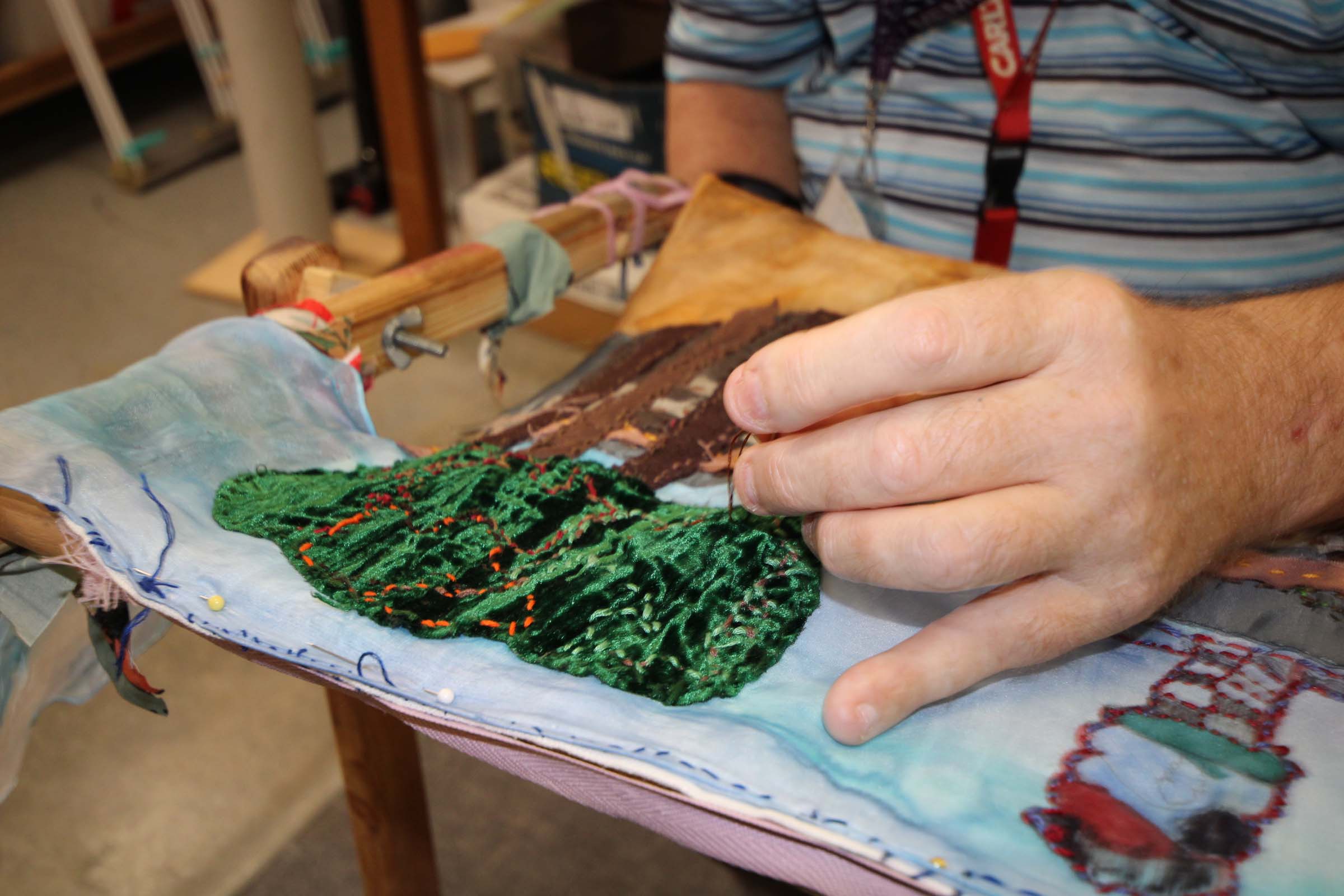 Greg spent some time in the craft room and began to work. He sat in the storeroom and chose pieces of fabric one at a time from a box and put them in a trolley with castors on the legs. He said it was his first time using the trolley in this way, but he really enjoyed being able to fill it up and take it back to his workstation.
One by one, Greg pulled the pieces out and ran his hand over the texture of the material, then put them in a neat pile. It was easy to see how he felt inspired in this space.
Greg is also a contributor for the annual 'As We Are' art awards which showcase artists' work such as his. He said his family have supported him the whole way on his artistic journey.
"

My family couldn't be happier that I'm coming to the Arts Hub. They are so supportive and always ask me what I'm working on," he said.

"Being creative gives my confidence in myself."

This is Greg's AT, and this is his story.

This article was written in collaboration with the Arts Hub, run by Rise.

AT Featured in this story:
Other useful links: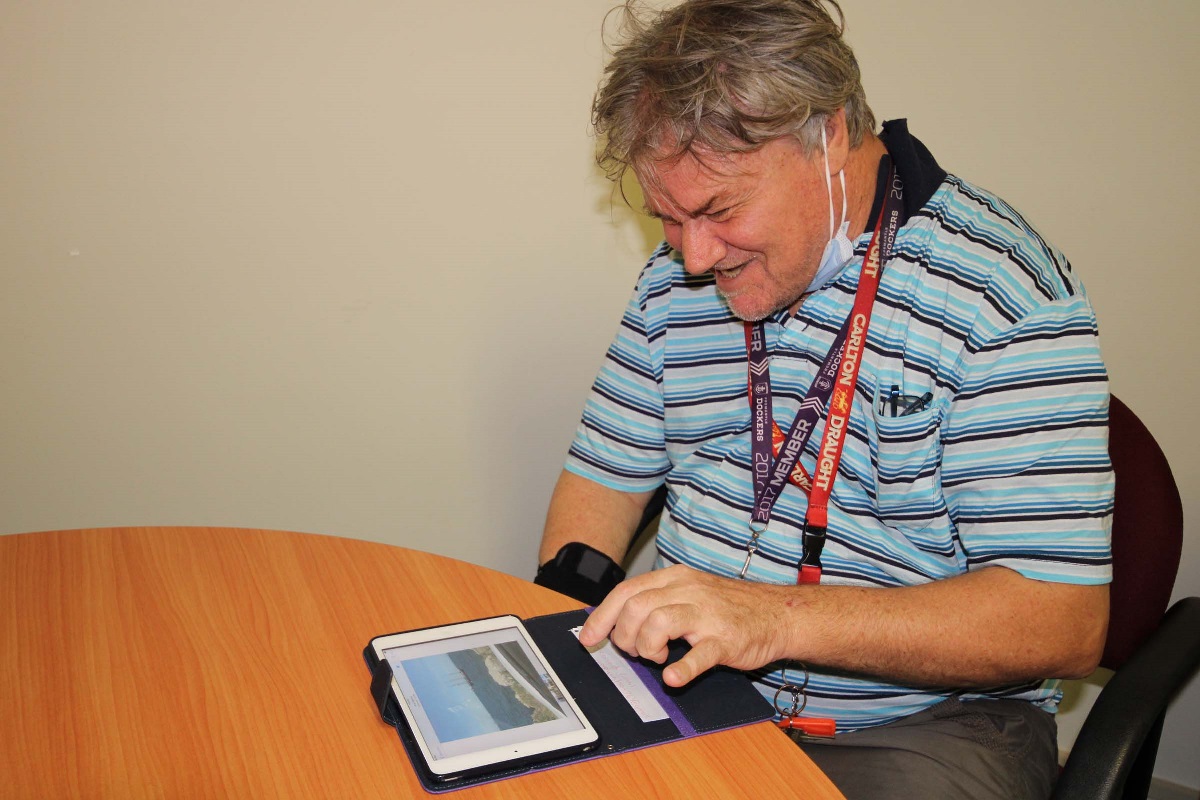 You might also be interested in...