Blogs
AT stories and reviews from your peers
Life as a family of four on the autism spectrum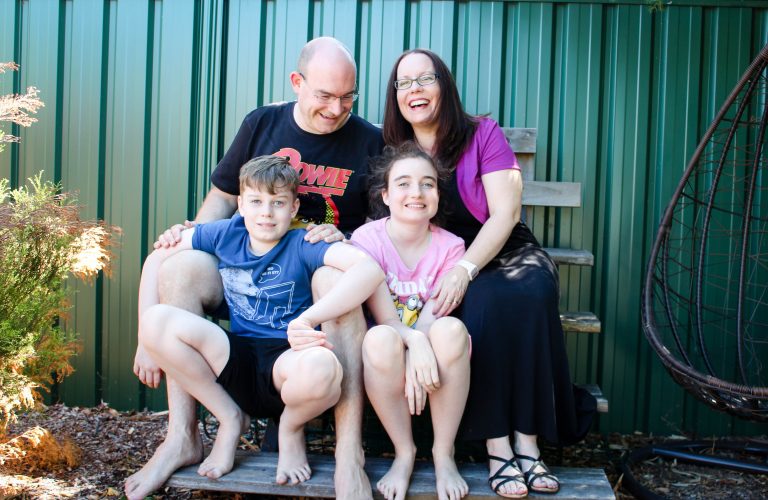 This month for AT Chat we invited the Bolger family from the AAA project to write about their experiences with AT and autism.
One of the greatest challenges of being a neurodiverse family, living in a neurotypical world, is the differences in our responses to sensory stimuli.  A very common task like popping into the shops to grab a bottle of milk, can cause all kinds of issues given the immense noise, lights and smells that a grocery store can have.  If our senses are regulated, it can be a fairly straightforward process as we are able to manage the extra stimuli with no major dramas.  However, if our sensory system is dysregulated, a quick trip to the shops can cause so many issues that we often wonder if we can just do without the milk!
So how do we keep our sensory system regulated?
We use something called a sensory diet as a precautionary tool, and we have helpful gadgets on hand if the sensory world becomes too much and we go into sensory meltdown.  A sensory diet consists of a range of different activities that either stimulate the sensory system or calm it down.  Our sensory diet was developed and closely guided by a wonderful Occupational Therapist and is still guided by a team of therapists that work with our family.  There are some wonderful books out there detailing sensory diets and sensory circuits, but it is so important to have a qualified OT working with you to ensure that you're doing the activities correctly!  We choose activities that use trampolines, outdoor swings, crash mats, cocoon swings, scooter boards, fit balls, Theraputty and medicine balls.
Our go-to emergency sensory toys include fidget spinners, squishy toys or anything that we can fit in our pockets or bag.  The greatest piece of equipment that we have now though is our noise-cancelling headphones.  These wonderful pieces of equipment have been an absolute game changer for our family, especially our two kids.  There are not many days that you will see us walking around our community without our headphones on!  They give us instant control over the incredibly noisy world we live in. We have certain triggers for sensory meltdown, and unexpected noise is definitely one of the them.  Being able to create an expected background noise through hearing music of our choice eases the anxiety of being out and about in the community.
There are so many different strategies that can assist with regulating the sensory system, it just comes down to finding out what works for you.  We have found a range of strategies that work for us, and allow us to be active members of our community.
 The Bolger Family, f
rom
Alyssa's Autism Acceptance Project
Links:
Books On Sensory Circuits:
Noise Cancelling Headphones:
Sensory Diet Equipment: