Blogs
AT stories and reviews from your peers
AT for life – Nerine's story
One woman tells her story of how she got her wheelchair and the challenges, adventures and lessons she had along the way. This is Nerine's story...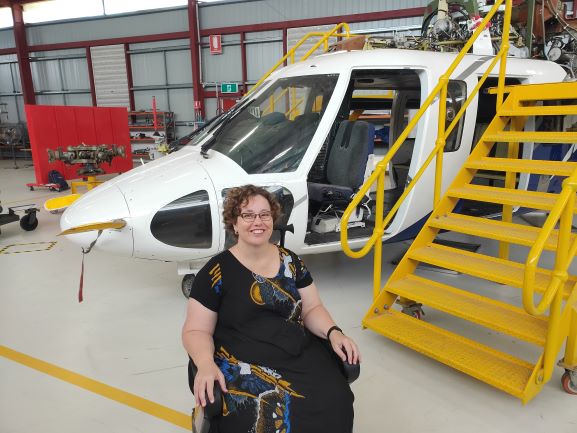 Reading someone describe themselves as an "ambulant wheelchair user" on the AT Chat page, changed my life.
I had always viewed walking as a binary activity – you either could or couldn't (yes, I'll admit my ignorance) – and wheelchairs were only for those who couldn't.
Since the onset of a neurological condition 3.5 years ago, I was struggling to walk and was 'getting by' with a wheelie walker and a walking stick - due to weakness, fatigue, and a sense of heaviness in my legs, I wasn't getting very far.
Dancing, window shopping, riding a bike and walking the dog with my family were among a growing list of things I could no longer do.
Deciding on an AT fit

I began to think of a wheelchair as a tool to do some of the things I desperately wanted to do, and my husband and I started to research wheelchairs. We knew it needed to be powered rather than manual as both my arms are affected in the same way as my legs. I also wanted to be able to use it outdoors without being limited to footpaths and to use it on public transport. Lastly, I really wanted something that was a bit fun as so many mobility devices look very clinical.
We spent hours and hours researching online, looking at everything from motorised scooters to Segway-style wheelchairs. One of the wheelchairs I really liked was great for all-terrain, and would have been great for outdoor use, but wouldn't have worked well getting around in a smaller space like a retail store. It was also more than I wanted to spend on a first wheelchair.
It was my husband who found the Whill Ci and when he showed me the website, it looked like a good contender in terms of manoeuvrability, range (up to 15km on one fully charged battery), ability to handle different terrain, price and aesthetic. It was quite hard to find accurate information, but eventually we figured out the Whill C was the name for the model overseas, and Whill Ci was the model that met Australian requirements. I watched so many YouTube clips and read every review I could find. I also checked out all the possible accessories to figure out which would be helpful for me and which were not necessary.
The AT purchasing journey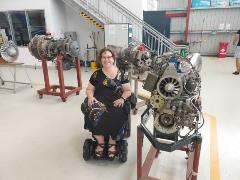 Using the www.ilcaustralia.org.au website, we found Luke, a stockist (HospEquip) in our local area and made an appointment to check it out for a test drive and compare the seating options. When we got there, Luke arranged for me to try out a few other powered wheelchairs, but the Whill was a firm winner in terms of meeting my needs. He also let me know the joystick controller could be configured on either side – this was great as I have limited use of my right hand and forearm. Lastly, he was able to recommend a couple of great OTs that we could contact to assist with an NDIS AT application.
We considered all the available accessories and decided to go ahead with a walking stick holder, spare battery, side storage bag, under seat storage basket and smart key (to be able to lock the wheelchair from my phone). The one decision that didn't require any thought was the colour of the arms – they were to be red!
I rang Maria (one of the OT's) and made an appointment, then started to research whether I'd need insurance (yes) and whether it needed to be registered with Department of Transport (yes – it's free but compulsory in QLD). I ended up choosing RACQ as we already had other policies with them and as a bonus, I now have roadside assistance for my wheelchair – can't wait to see how that works!
We then met with Maria on a Monday and talked about what my goals (and challenges) were, which of the wheelchairs I had trialled and what was good/not suitable about each of them. I also gave her my quotes for the Whill Ci and insurance. By Tuesday afternoon, Maria sent through a draft application for us to look at and submitted the final application on Wednesday. We were amazed, which turned to shock on the Friday morning when we received a call from NDIS to let us know the Whill had been approved! The downside was that I had no AT budget in my NDIS plan, so although HospEquip had the wheelchair in stock and waiting, we couldn't go ahead. Our frustration was short-lived, as the guy that had rung from NDIS worked hard in the background and rang us back later that afternoon to let us know he had sorted everything out for us.
AT adventures
By the time we got home, and the first battery was charged, it was too dark to head out, so first thing Saturday morning, my adventures began! My husband and I went walking with our son and our dog, of course, starting the walk by crossing four lanes of traffic, then exploring a local bike path. That weekend my in-laws came to visit and my mother-in-law, daughter and I went shopping together – it was wonderful!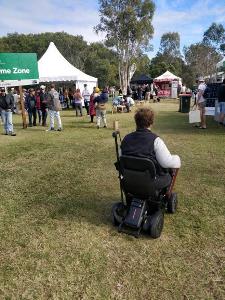 Since then, I've used my wheelchair independently to head to the library, supermarket and hairdresser and to catch buses and trains to go to appointments, do volunteer work and go to concerts in the city. These are all things I could not have done without someone to drive me.
I've also used it to do activities with my family including an outdoor art gallery walking tour, checking out a hacker/maker space, touring an aircraft hangar with my husband and son to find out about Avionics careers as well as simple things like just walking the dog with the kids. I like checking out the different architecture in our neighbourhood and having those casual side-by-side chats where you find out so much more from your teenage children than you would in a face-to-face conversation.
Last week, I went to Sporting Wheelies with my husband, and we tried Boccia (they loaned him a manual wheelchair to use) and I think I'll go back again by myself. I'm keen to check out a Dancing Wheelies group that is a bit further away.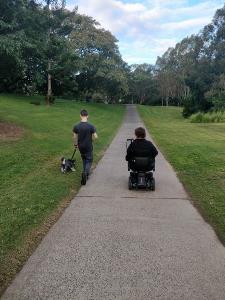 There have been some challenges along the way – I'm ashamed to admit I've run over both my husband's and my daughter's foot while I was learning to use my wheelchair. I'm still learning the nuances (and dangers) of footpath camber, strategies for using bus ramps and identifying my local 'driveways of death' that can tip the less experienced/vigilant wheelchair user towards oncoming traffic. I do get curious looks when I transfer to a regular seat on a bus or train (it's a requirement when using the Whill Ci in Australia) but more often I get curious questions and admiration from the mechanically minded when they notice the omni-directional wheels and tight turning circle.
The beauty of using a power wheelchair is that I can go out and do so many things and not be wiped out for days or weeks afterward. It has opened my world in so many ways, giving me new opportunities to embrace – it's been worth the wait!
Useful link:
Whill Chair – Model Ci – HospEquip