Staying Physically Healthy during Covid-19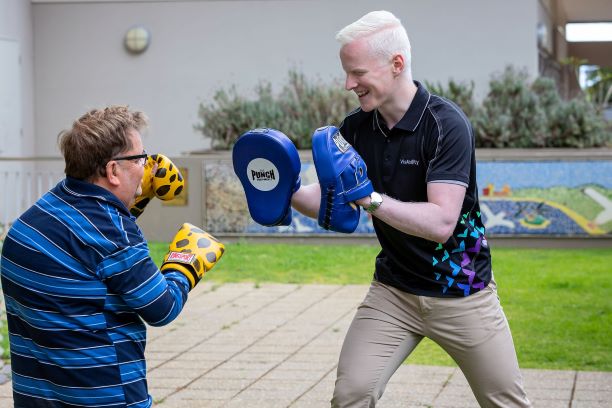 It is well researched that exercise plays an important role in improving both the physical and mental health of individuals living either with or without a disability. It leads to improvements in mood, and enjoyment through social interactions of both the exercise physiology staff and peer participation, Accredited VisAbility Exercise Physiologist (AEP) Felicity Austin said.
VisAbility has adapted its client outreach during times of Coronavirus and moved many of its services online, including its exercise physiology program. The team have held lots of classes via Zoom during shutdown and some of the clients have shifted across to this type of instruction on a regular basis. Covid-19 has changed a lot, but the focus on health remains the same.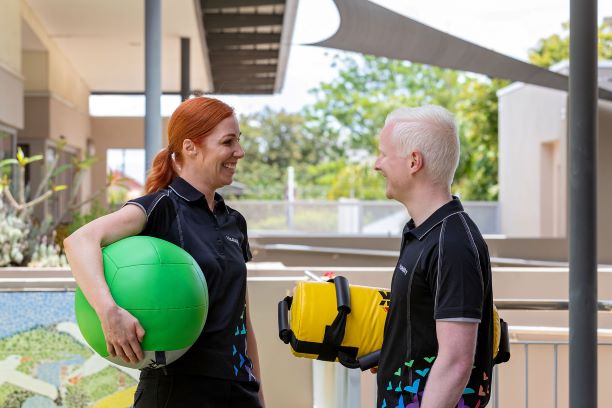 There are a number of Personal Trainer service providers registered with the NDIS across Australia that people with disability (PwD) can engage in services with to best support their needs. We can also 'phone in' for our health concerns with tele-health appointments for a range of services from physical therapy to mental health and general GP. Check with your local practitioner for their tele-health appointment availabilities that suit you.
VisAbility Therapy Assistant Kane Perris knows the benefits of exercise for PwD first-hand, as he shares his lived experience with Albinism with his clients. Kane, having experienced his own battles with vision impairment, makes him a relatable choice for clients to work with.
Kane said if a client visits the clinic, the only structural modifications they will notice are colour contrasting and tactile markings on the equipment, and down the length of the floor.
"This is to help orientate the client to the middle of the room to gain their bearings, and to also provide occupational health and safety processes to reduce the risk of bumping themselves into the equipment and operating the equipment. All of this is aimed at ensuring the clients are as independent as possible," he said.
Kane had some helpful ideas on how someone living with a vision impairment could incorporate AT into their exercise routine.
Smart watches: monitor heart rate, set programs, monitor sleeping patterns etc
Music is a great motivator
Phones to access exercise programs that can be read aloud.
AEP Felicity said when it came to exercise, the team targets its interventions around the goals the client wishes to achieve.
"When a client first comes to our clinic, we spend time with them conducting thorough subjective and objective assessments relating to their goals, observing the way their body moves and understanding what they want to achieve," Felicity said.
"From here, we then create an individualised exercise prescription, specifically for them. Our team of exercise physiologists are pretty great at thinking outside of the box, incorporating various exercises into their intervention programs and daily lives."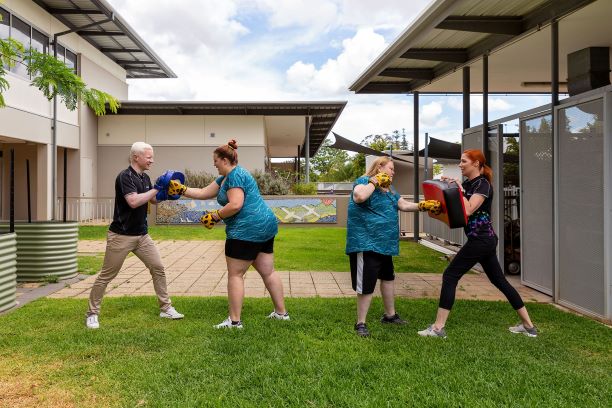 Felicity had some great tips for a person starting a new exercise program:
Seek advice and help from an AEP to help plan and progress your program. They can tailor your program to target certain needs, such as: improved daily living capabilities, improve mental and physical health and well-being etc.
Think about what health and wellbeing goals you would like to achieve. These could be playing lawn bowls with your community club, walking more independently to the park or shops, improving your balance to reduce trips or falls or even training to be a para-Olympian!
Think about the best time of day for your exercise therapy and how you will get to an appointment. We understand that logistics can be tricky sometimes, so planning your support might take some planning.
Lastly enjoy and have fun, you are in safe hands!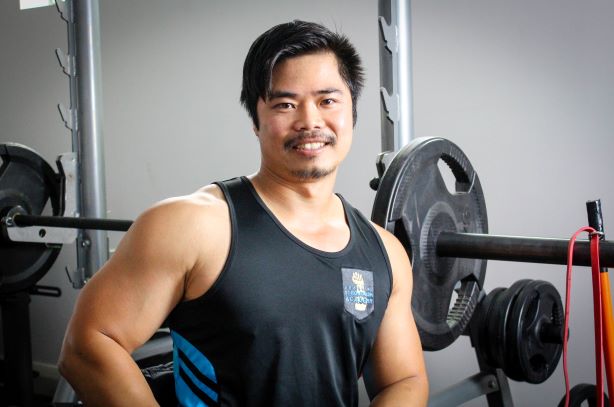 AT Chat community member and Australian Commonwealth Games Powerlifter Nang Van Nguyen specialises in training people with disability and he has learnt some of his own tips along the way to modify his workout regime. Nang created an adaptive tool to meet differing accessibility needs which can be used in one sitting. He also uses a clever piece of AT which is essentially a hollow tube with a hole drilled through it and a weight attached to a cord. Watch Nang's AT + Me adaptive exercise video here to see his ideas come to life. Nang operates out of the Adaptive Strongarm Academy and is always looking for new AT ideas to expand his custom exercise services.
Exercise and Sports Science Australia (ESSA) states that a way to break down barriers can be through participation in sport and physical activity.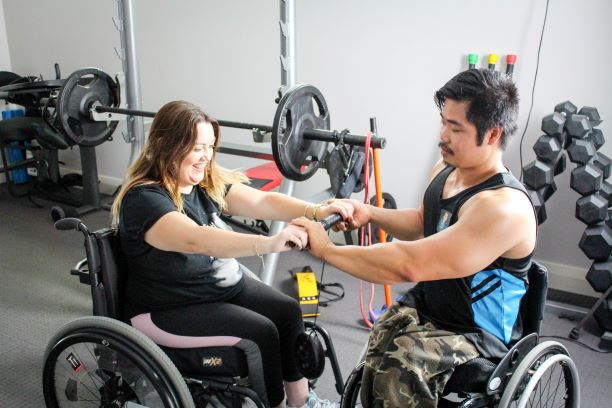 "Statistics show that 18.5% of the population have a disability, which is approximately 4.2 million people. With such a majority of Australians living with a disability, the importance of inclusion is significant, and breaking down these barriers where possible is vital," ESSA Chief Executive Officer, Anita Hobson-Powell said.
"Australians love their sport, irrespective of their health, with the Australian Sports Commission reporting that people with a disability are just as keen to participate even though they may experience limitations," she said.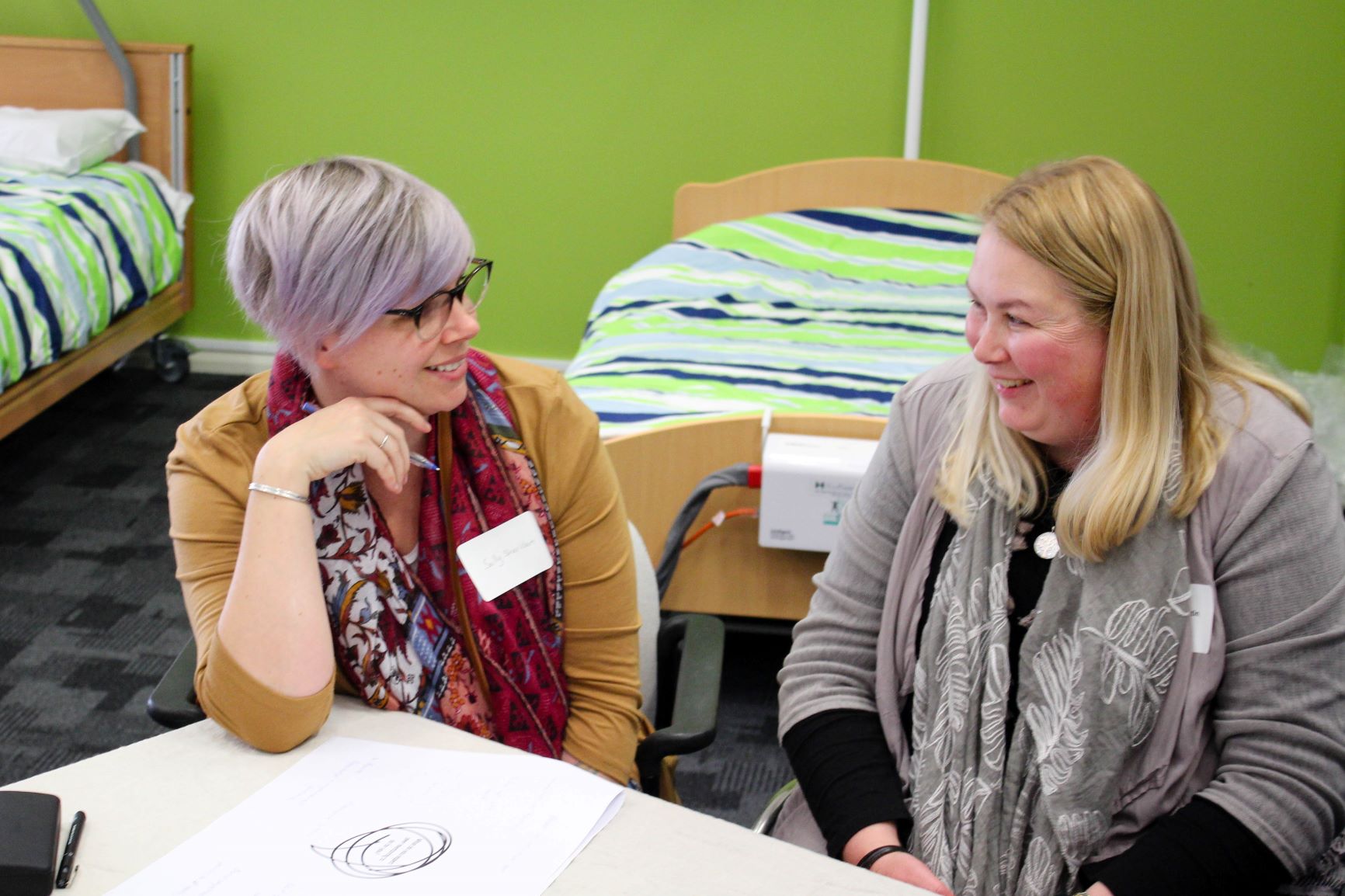 Our Facebook group Chatterbox is open to all assistive technology (AT) users. If you would like to join the AT chat to share your experience and connect with your peers about an AT solution please follow the link below and join this amazing community.